Omkar Print Lab are the manufacturers and industry leader for LED Sign Boards in Bangalore.
Run your business with signages as the primary marketing method. In this digital age, the name equally needs to stand out in the offline media and not only in the online segment. Attracting the customers with display names has its own distinct value. A display board is often the first interaction with the customer, hence helps building brand awareness in their minds. The retail sales and turnover can be increased with a well-designed digital signage.
Types of LED Sign Boards
3D LED Sign Boards




2D LED




Running LED




Spot LED




Acrylic Letter Board




Sky Signs for Tall Buildings




Back Lit Metal Letter Boards




Neon Sign Boards

If you are just starting off or have an established business and looking out to attract customers in a cost effective manner, display boards or LED sign board are the best option. Using display signage will not incur a major cost for maintenance. These boards are very popular for their high durability. They are sturdy, smart and can be customized. Many businesses rely on their signage to drive customers to their stores and have proven to be effective.

We at Omkar are the best LED Sign Board manufacturers in Bangalore having skilled and expertise workforce to execute this type of projects. We also provide pylon sign board in Bangalore.
Click on the following link Sign Boards in Bangalore for more info on the signage works we do.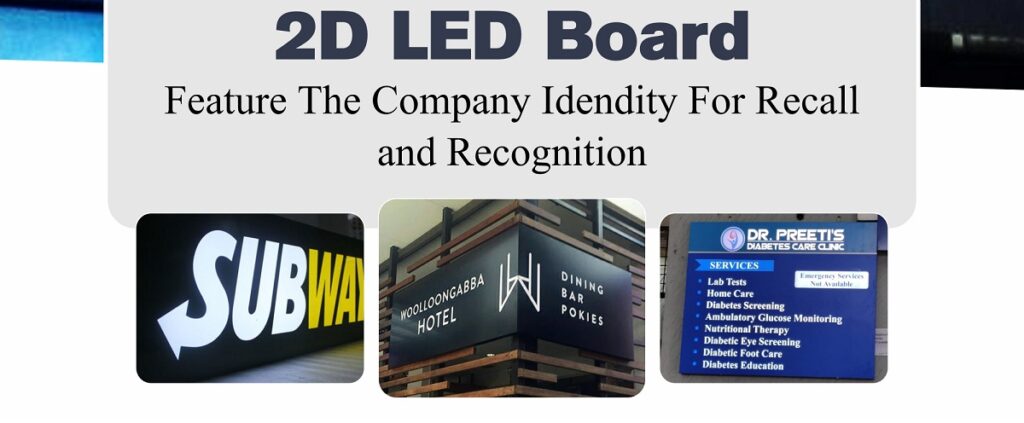 Fill the form below and we shall get back to you soon;
We Also Expertise In: